The Merisis Group Edge
Merisis Advisors is an Investment Banking firm with a successful track record in fundraising and M&A transactions. Over the last 12 years, Merisis has advised its clients on a total transaction value of $3 bn including $1 bn of M&As. The team consists of 30+ Investment Bankers with deep domain expertise across 6 vertical practices.
Merisis Venture Partners Fund has been launched to benefit from Merisis' strong relationships with VC Funds and Founders.
Deep Domain Expertise & Trust: VCs trust us and welcome our domain expertise and reach. This enables Merisis to participate in exclusive investment opportunities.
Investment Banking Synergy: We bring proprietary deals into the fund vetted by our Investment Banking practice and take advantage of our M&A expertise for strategic portfolio exits.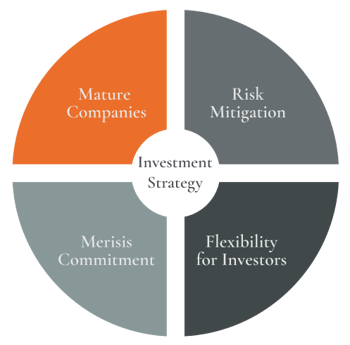 Here is what our Founders are saying
It was a very good experience
Lorem ipsum dolor sit amet, consectetur adipiscing elit. Cursus nibh mauris, nec turpis orci lectus maecenas. Suspendisse sed magna eget nibh in turpis. Consequat duis diam lacus arcu. Faucibus venenatis felis id augue sit cursus pellentesque enim arcu. Elementum felis magna pretium in tincidunt. Suspendisse sed magna eget nibh in turpis. Consequat duis diam lacus arcu. urpis orci lectus maecenas. Suspendisse sed magna eget nibh in turpis. Consequat duis diam lacus arcu. Faucibus venenatis felis id augue sit cursus pellentesque enim arcu
It was a very good experience
Lorem ipsum dolor sit amet, consectetur adipiscing elit. Cursus nibh mauris, nec turpis orci lectus maecenas. Suspendisse sed magna eget nibh in turpis. Consequat duis diam lacus arcu. Faucibus venenatis felis id augue sit cursus pellentesque enim arcu. Elementum felis magna pretium in tincidunt. Suspendisse sed magna eget nibh in turpis. Consequat duis diam lacus arcu. urpis orci lectus maecenas. Suspendisse sed magna eget nibh in turpis. Consequat duis diam lacus arcu. Faucibus venenatis felis id augue sit cursus pellentesque enim arcu
It was a very good experience
Lorem ipsum dolor sit amet, consectetur adipiscing elit. Cursus nibh mauris, nec turpis orci lectus maecenas. Suspendisse sed magna eget nibh in turpis. Consequat duis diam lacus arcu. Faucibus venenatis felis id augue sit cursus pellentesque enim arcu. Elementum felis magna pretium in tincidunt. Suspendisse sed magna eget nibh in turpis. Consequat duis diam lacus arcu. urpis orci lectus maecenas. Suspendisse sed magna eget nibh in turpis. Consequat duis diam lacus arcu. Faucibus venenatis felis id augue sit cursus pellentesque enim arcu
It was a very good experience
Lorem ipsum dolor sit amet, consectetur adipiscing elit. Cursus nibh mauris, nec turpis orci lectus maecenas. Suspendisse sed magna eget nibh in turpis. Consequat duis diam lacus arcu. Faucibus venenatis felis id augue sit cursus pellentesque enim arcu. Elementum felis magna pretium in tincidunt. Suspendisse sed magna eget nibh in turpis. Consequat duis diam lacus arcu. urpis orci lectus maecenas. Suspendisse sed magna eget nibh in turpis. Consequat duis diam lacus arcu. Faucibus venenatis felis id augue sit cursus pellentesque enim arcu
It was a very good experience
Lorem ipsum dolor sit amet, consectetur adipiscing elit. Cursus nibh mauris, nec turpis orci lectus maecenas. Suspendisse sed magna eget nibh in turpis. Consequat duis diam lacus arcu. Faucibus venenatis felis id augue sit cursus pellentesque enim arcu. Elementum felis magna pretium in tincidunt. Suspendisse sed magna eget nibh in turpis. Consequat duis diam lacus arcu. urpis orci lectus maecenas. Suspendisse sed magna eget nibh in turpis. Consequat duis diam lacus arcu. Faucibus venenatis felis id augue sit cursus pellentesque enim arcu
It was a very good experience
Lorem ipsum dolor sit amet, consectetur adipiscing elit. Cursus nibh mauris, nec turpis orci lectus maecenas. Suspendisse sed magna eget nibh in turpis. Consequat duis diam lacus arcu. Faucibus venenatis felis id augue sit cursus pellentesque enim arcu. Elementum felis magna pretium in tincidunt. Suspendisse sed magna eget nibh in turpis. Consequat duis diam lacus arcu. urpis orci lectus maecenas. Suspendisse sed magna eget nibh in turpis. Consequat duis diam lacus arcu. Faucibus venenatis felis id augue sit cursus pellentesque enim arcu

Patric Alberto

Patric Alberto

Patric Alberto

Patric Alberto

Patric Alberto

Patric Alberto